Fiberglass Boat Repair Texas
Color Pro uses the latest technologies and materials to repair fiberglass boats from stress cracks, to major structural damage. We work with your insurance company to restore your boat to before accident condition. We also offer fiberglass fabrication for all your projects.
Professional Fiberglass Boat Repairs
Buff & Compound
Boat Painting
Custom Painting
Gelcoat Repairs
Color Matching
Metal Flake Matching
Structural Problems
Boat Floor Repairs
Stringers
Transom
Repairs
Replacement
Color Pro can restore the structural integrity of your vessel.
Effective Fiberglass Boat Repair Services in Texas: Restoring Your Vessel's Pristine Condition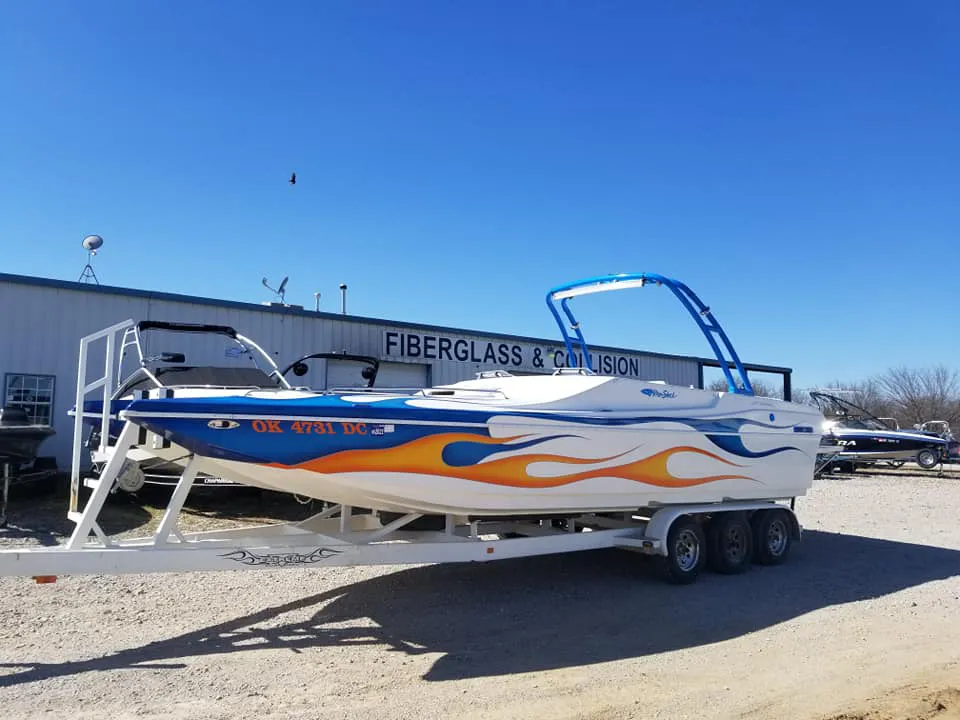 Owning a fiberglass boat in Texas offers an incredible opportunity to explore the state's abundant waterways and indulge in various water-based activities. However, over time, your vessel may succumb to wear and tear, resulting in cracks, scratches, or other structural issues. When faced with such challenges, it's crucial to seek professional fiberglass boat repair services close to your Texas location to ensure your boat remains seaworthy and retains its aesthetic appeal.
At Color Pro Fiberglass, we understand  the significance of fiberglass boat repair, the common issues faced by boat owners in Texas, and how professional repair services can restore your vessel to its former glory.
Why Opt for Fiberglass Boat Repair Services?
1. Structural Integrity:
Fiberglass boats are renowned for their strength, durability, and lightweight characteristics. However, even the toughest vessels can experience damage due to collisions, impacts, or exposure to harsh environmental conditions. Professional repair services can address structural issues, reinforcing the integrity of your boat and ensuring safety on the water.
2. Aesthetic Appeal:
Unsightly scratches, cracks, or blemishes on your boat's surface not only diminish its visual appeal but may also lead to further damage if left untreated. Expert fiberglass repair technicians possess the skills and tools to restore your boat's smooth finish, seamlessly blending repaired areas with the original surface.
Common Fiberglass Boat Repair Issues in Texas:
1. Gelcoat Damage: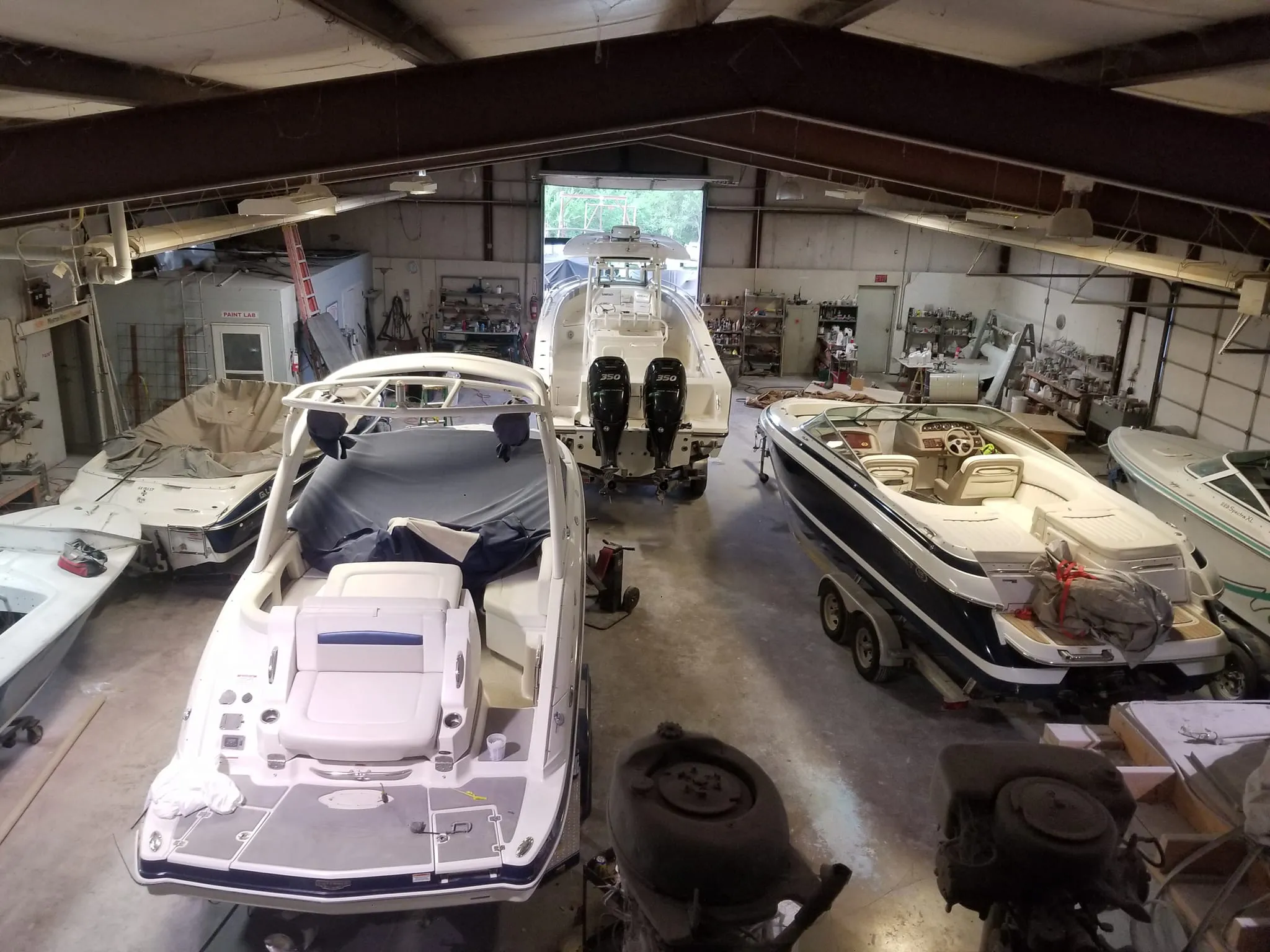 Gelcoat serves as the outermost layer of protection for the fiberglass hull, shielding it from the elements. However, prolonged exposure to UV rays, saltwater, and temperature fluctuations can cause the gelcoat to fade, crack, or blister. Skilled technicians can repair or reapply gelcoat, rejuvenating your boat's appearance and safeguarding it from future damage.
2. Hull Damage:
Fiberglass boat hulls are susceptible to impact damage from collisions with rocks, debris, or other vessels. These impacts can result in cracks, fractures, or holes, compromising the boat's structural integrity and potentially leading to water ingress. Professional repair services can assess the extent of the damage and utilize techniques like patching, laminating, or fiberglass layup to restore the hull's strength.
3. Stress Cracks:
Stress cracks, often caused by flexing or vibrations during navigation, can develop over time and compromise the hull's integrity. Repair professionals can identify these cracks, assess their severity, and employ appropriate techniques such as grinding, filling, and sanding to repair the damaged areas, ensuring the longevity of your boat.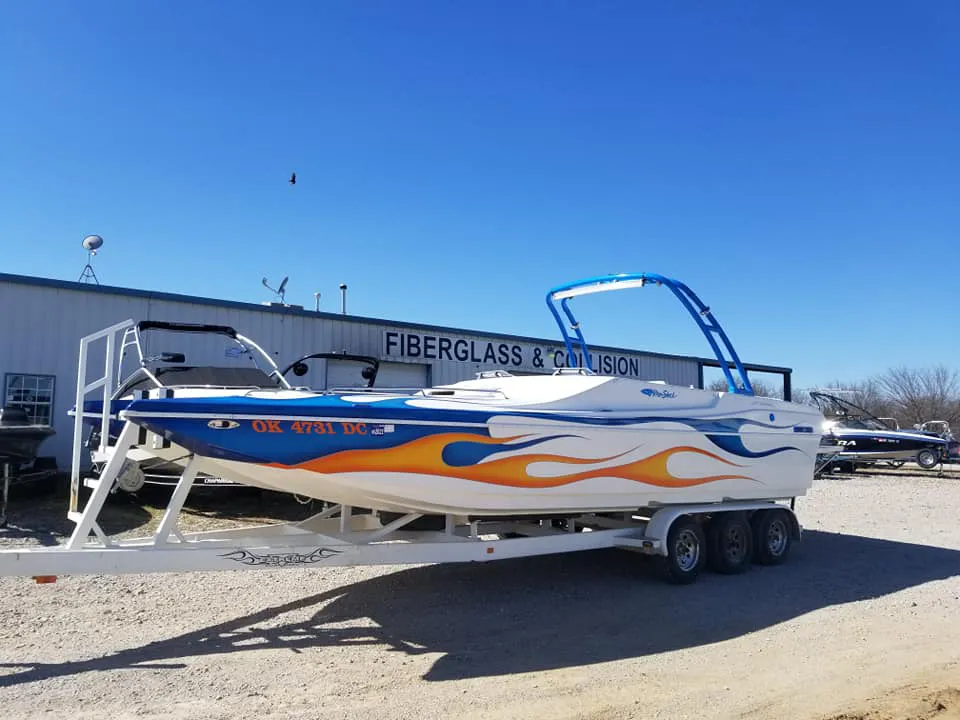 4. Transom Repairs:
The transom plays a critical role in supporting the outboard motor and other components. However, the transom can weaken over time due to water intrusion, rot, or improper weight distribution. Expert repair services can replace or reinforce the transom, ensuring optimal performance and safety.
Choosing Professional Fiberglass Boat Repair Services Texas
Experience and Expertise
The professionals at Color Pro Fiberglass have  a proven track record of working with fiberglass boats, as well as sea doos and vehicles. Our experienced technicians possess the necessary skills, knowledge, and expertise to handle various repair challenges efficiently, and cost-effectively. Working within a timeline that helps you get your boat back on the water.
Quality Materials and Techniques
As a repair service provider, we utilize high-quality materials and follow industry-standard repair techniques. This guarantees the longevity of the repairs and enhances your boat's overall performance.
Customer Reviews and Recommendations:
Color Pro Fiberglass has an extensive list of 5 star reviews on our google reviews as well as facebook. Our business relies on referrals, and we stand behind each of our projects, to ensure that our clients not only refer us, but return to us as customers in the future.
Insurance Quotes Available
Color Pro is an approved fiberglass repair shop with most insurance companies. We will work directly with your insurance company to complete the needed repairs quickly and correctly.
Color Pro repairs & paints boat trailers.  We can get your boat trailer in top shape and looking like new. Call us for an estimate today!
Repair of Damage to Hull of Boat

Repair of Damage to Bayliner Boat

2008 Stratos Boat with Broken Windshield

Boat Trailer Repair & Boat Trailer Painting
Limited Lifetime Warranty
When we repair your boat it is backed with an original owner LIFETIME WARRANTY on all structural fiberglass and gel coat repairs, with the exception of manufacturer (factory) defects or defect stress cracks. Our warranty comes with the strength of two generations in business.
Call for an Estimate Today! 580-220-9500