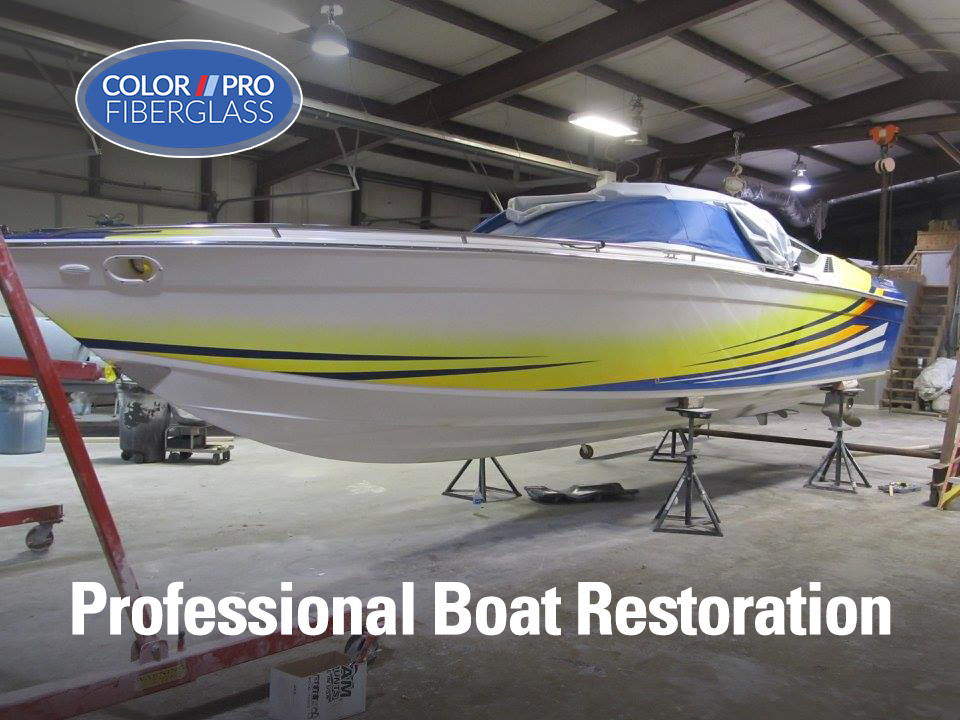 Boat restoration can encompass many different kinds of repairs, from boat paining, gelcoating, fiberglass repairs, floor repairs, structural repairs, boat upholstery replacement, and boat carpet replacement.  When looking for a shop to do your boat restoration you need a facility that can perform all the tasks needed, and do them correctly. Color Pro provides quality boat restoration for your entire vessel. We are industry leaders in the field of boat reconstruction, fiberglass repair, gelcoating systems, custom boat graphics, boat upholstery, boat carpet repairs, and replacement.
Depending on the condition of your boat or personal watercraft, and your budget, boat restoration is a great alternative to replacement. Especially if the power train on your boat is still sound.
Color Pro can restore your boat to a new like condition, adding resale value, and extending the usable life of your boat.
Bring back the pride you once had in your boat, by breathing new life into your vessel by using Color Pro for your boat restoration project. We also perform quality fiberglass repairs and fabrication.
Limited Lifetime Warranty
When we repair your boat it is backed with an original owner LIFETIME WARRANTY on all structural fiberglass and gel coat repairs, with the exception of manufacturer (factory) defects or defect stress cracks. Our warranty comes with the strength of two generations in business.
Call for an Estimate Today! 580-220-9500